This apple pie is my mom's recipe. Can you guess who my dad is? Hehe. :) My mom is famous among family and church friends for a few things she makes: potato salad, cheesecake, and apple crumb pie are among the top three in my opinion. I even think she may have won a church cook off with this recipe!
Of course my mom makes her own crust. But seriously, I'm the Mostly Homemade Mom! Number one, I don't own a nice big food processor to mix the crust perfectly. Number two, I also don't own a rolling pin (I know right?!). Number three, I love the taste of store bought refrigerated pie crust, so I'm just gonna roll with that, k?
It's fine though, the crust is only part of this pie. The real star of the show is the crumb topping. Notice there are no dollops of whipped cream, drizzles of caramel topping, or vanilla ice cream on the side. You don't need it. I'm telling you this is the best apple pie I've ever had! And I'm somewhat of a professional at tasting apple pies... Thanks mom!
Pastor's Wife Apple Crumb Pie
Filling:
6 apples cored, quartered, & sliced
3/4 cup sugar
1/4 cup flour
1/2 teaspoon nutmeg
1/2 teaspoon cinnamon
dash salt
Crumb Topping:
1 cup flour
1/2 cup butter
1/2 cup brown sugar
Preheat oven to 425. For filling, mix flour, sugar, nutmeg, cinnamon, and salt. Stir in apples and pour into prepared pie crust.
For crumb topping, add butter (cold), flour, and brown sugar in small food processor and pulse until coarse crumbs form.
I actually did this in two small batches because my little 2 cup food processor would have cried! One of my most used kitchen appliances, though, for sure.
Cover filling with crumb topping. Cover the edge of the pie crust with foil, remove it for the last 15 minutes of baking. Bake at 425 for 40-50 minutes.
Yum. Thanksgiving and Christmas all rolled into one. :)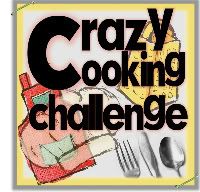 This post is part of the Crazy Cooking Challenge! Be sure to check out all the other amazing apple pie recipes below and vote for your favorite.
Looking for more Crazy Cooking Challenge Recipes?
-BBQ Chicken Ranch Dip-
- Mini Oreo Cheesecakes - Strawberry Orange Julius - Pizza Grilled Cheese -
- Cake Mix Blueberry Muffins - Slow Cooker Fresh Tomato Sauce -
- Chocolate Fudge Bundt Cake - Pumpkin Pie Fudge -
- Roasted Garlic & Parmesan Mashed Potatoes - Super Soft Chocolate Chip Cookies -
- Healthy Mac & Cheese -
Linking up to
these fabulous parties
. Check them out!
I'm partying at the
Pi Day Pie Party at Crazy for Crust
today. Come party with us!