This is a Sponsored post written by me on behalf of Honeysuckle White® and Shady Brook Farms® for SocialSpark. All opinions are 100% mine.
Savory turkey burgers piled high with marinated grilled zucchini and peppers, and served over toasted rolls!
I sincerely hope you're not getting sick of all the grilling recipes I've been sharing lately! I just can't get enough of the different flavors and combinations you can create using the grill - I'm addicted, if you couldn't already tell!
I have to admit though, sometimes regular old grilled burgers can get BORING. I picked up a box of Shady Brook Farms Savory Turkey Burgers (might be known has Honeysuckle White Turkey Burgers in your area) to try something new, and boy was I pleasantly surprised! They were just as easy to prepare as beef burgers (cook from frozen gotta love that!) plus they have more protein than beef burgers, lower calories than chicken, and less fat than pork. AND they're gluten free. Serving something packed with flavor to your growing family that's also healthy for them? I'm in!
There are six varieties to choose from, including Savory Seasoned, Ready to Season, Cheddar Jalapeno, and Swiss, Bacon, & Onion. They taste great hot out of the skillet or off the grill!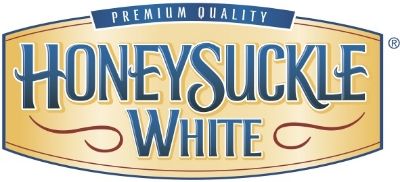 If you're not into the burgers, they also have brats, tenderloins, and a variety of other turkey options that are great for your BBQ night at home. I think I may just have to try them all... :)
These burgers are seriously awesome! The zucchini and sweet peppers marinate in Italian dressing for added flavor, plus there's a garlicky mayo spread, and then of course the feta... your family will be WOW'd for sure with these!
Feta & Grilled Veggie Turkey Burgers
4 Shady Brook Farms (or Honeysuckle White) frozen turkey burgers
5-6 sweet mini red/yellow/orange peppers (or two regular sized peppers)
1/2 cup zesty Italian salad dressing
1 cup feta cheese, crumbled
Slice the zucchini length-wise in long, thin strips and quarter the mini peppers. Place the veggies in a lidded plastic container along with the salad dressing. Seal the lid, and toss to coat, set aside. In a smaller bowl, combine the mayo, lemon juice, lemon zest, and garlic. Cover and refrigerate. Preheat grill on medium high heat and grill veggies, shaking off excess dressing, for 4 minutes, then turn and grill another 4 minutes. Remove from grill and cover with foil to keep warm. Place frozen turkey burgers on grill and grill for 8-9 minutes, flip, and then an additional 6-8 minutes on the other side, until center reaches an internal temperature of 165 degrees fahrenheit. Once you've flipped the burgers, place cut rolls on grill to toast as well. To assemble burgers, spread mayo-garlic mixture on both sides of buns, top with a turkey burger and generous amount of grilled veggies, a good sprinkle of feta, and then the top bun.
Be sure to check out Shady Brook Farms' Grilling with Friends Facebook app and sweepstakes! They give you the tools to completely plan out your next grilling party at your house, like the menu builder that allows guests to sign up to bring food, beverages, or extras (like a playlist) from the hosts' original list or add their own items. Plus there's a new Weber grill and $1000 up for grabs, sweet! For tips and recipes, visit Turkify.com
Don't miss another Mostly Homemade Mom recipe! Click here to have recipes delivered by email. Or, you can follow along via Facebook, Pinterest, Twitter, Instagram, or Google+ - I'd love to connect with you!
{linking up!}