Smoothies take me back. I remember going to the mall with my parents and sister when I was really young and BEGGING my mom and dad to buy me a smoothie. Eventually, Dad would give in and buy one and of course share it with me. I seriously love smoothies and I'm so annoyed with myself that I don't make them more often.
I was absolutely THRILLED to find out that this month's Crazy Cooking Challenge was fruit smoothies. The only problem? I completely forgot about it! As a true testament to how easy this recipe is, I whipped these babies up in about 5 minutes! In fact, I'm sipping on mine while writing this post. I can't think of a better way to end a tiring day with the kiddos. :)
Strawberry Orange Julius
from Adventures of a DIY Mom
6oz frozen orange juice concentrate (1/2 a can) Put the other 6oz in a small ziploc container, refreeze for later use
1 cup milk
1 cup water
1/2 cup sugar
1 teaspoon vanilla extract
5 strawberries, halved
ice
Thaw frozen orange juice concentrate. I stuck it in the microwave for about 20 seconds. Dump orange juice concentrate, milk, water, sugar, vanilla, and strawberries in blender. Fill the rest of the way with ice. Blend until you have the consistency you like.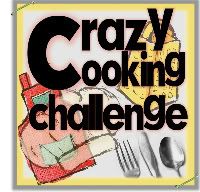 Oh man, I'm so excited to see what everyone else came up with! I have a feeling my "Drinks" pin board is about to blow up! :)
Linking up to:
Tastetastic Thursday
, Something Swanky, Tasty Thursday, I Made This,
It's a Keeper Thursday
,
Thrifty Thursday
,
Somewhat Simple
,
Frugal Food Thursday
,
Full Plate Thursday
,
Timeout Thursday
,
Things I've Done Thursday
,

My Favorite Finds

,

Feature Friday

,

Flaunt It Friday

,

Feature Friday

,

Foodie Friday

,

Simply Link Party

,

Refresh Your Nest

,

Friday Favorites

, Friday Fun Party,

Tidy Mom
.